The New 'F' Series Classic & Flat Top Guitars
---
Fender introduced the 'F' Series Classic and Flat Top Guitar range in 1972. The "F" series catalogue from 1972 shows 5 guitars in the classic range and 6 guitars in the Flat Top range. This compendium concentrates on the Flat Top range throughout the 1970's.The following pages show a detailed description and recommended retail prices in dollars at the time for each of the guitars. Also featured are original advertisements & catalogues.
Classic Guitars
Flat Top Guitars
FC-10¾
F-15
Concert
FC-10
F-25
Auditorium
FC-20
F-35
Dreadnaught
FC-30
F-45
Concert
FC-40
F-65
Dreadnaught
F-55-12
Dreadnaught
In 1973 the 'F' Series Flat Top range was extended to include 3 models they were the:
In 1975 the 'F' Series Flat Top range was further extended when an additional 12 string was added along with their finest dreadnought guitar the F-115.
Fender 'F' Series Classic & Flat top Guitars in 1979
---
The F-45 was unavailable from the later part of 1978 and then in 1979 the 'F' Series Flat Top range was extended even further with 2 more guitars added to the range. The 1979 Fender catalogue only refers to the range as Flat Tops and not the 'F' Series, however the price list from that year does.
| | | |
| --- | --- | --- |
| F-45 Replaced by the F-50 | F-50 | Grand Concert |
| | FJ-70 | Jumbo |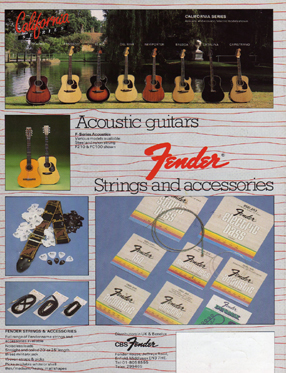 The FJ 70 Jumbo was the only guitar in the range to be finished in a rich Tobacco Sunburst finish. It featured an aged solid Sitka Spruce top. The fingerboard had deluxe crown position markers.
In 1980 the 'F' Series Flat Top range was increased with the addition of a cheaper range of acoustics, some of which were Korean made.
| | |
| --- | --- |
| F-3 | Dreadnaught |
| F-5 | Dreadnaught |
| F-5-12 | 12 String |
The 1983 Fender catalogue shown opposite features a 'F' Series 210 Dreadnought.